Overview
The Erasmus Mundus Joint Master Degree in Smart Cities and Communities of the International Hellenic University aims to provide interdisciplinary postgraduate level education in current technical, methodological and business areas in the field of smart cities at a technical and methodological level, combining knowledge of applied sciences, engineering and information and communication technologies.
The programme is designed to educate the next generation of engineers and researchers in Smart Cities and Communities by learning best practice from 4 of Europe's most prestigious universities and by fostering collaboration with industry through research. Students will have the opportunity to acquire new and valuable skills and benefit form state-of-the-art research at regional and transnational level, fostering innovation, entrepreneurship, creativity, employability, knowledge exchange and multidisciplinary learning. The courses of the programme are taught exclusively in English.
The first intake of students is for 2019-20.
Several full and partial scholarships will be available. Prospective students who wish to study the exciting emerging field of Smart Cities and Communities can consider the option of doing part of their master in Spain, Greece, Belgium or the U.K. and are encouraged to watch this space.
More information are available at www.smaccs.eu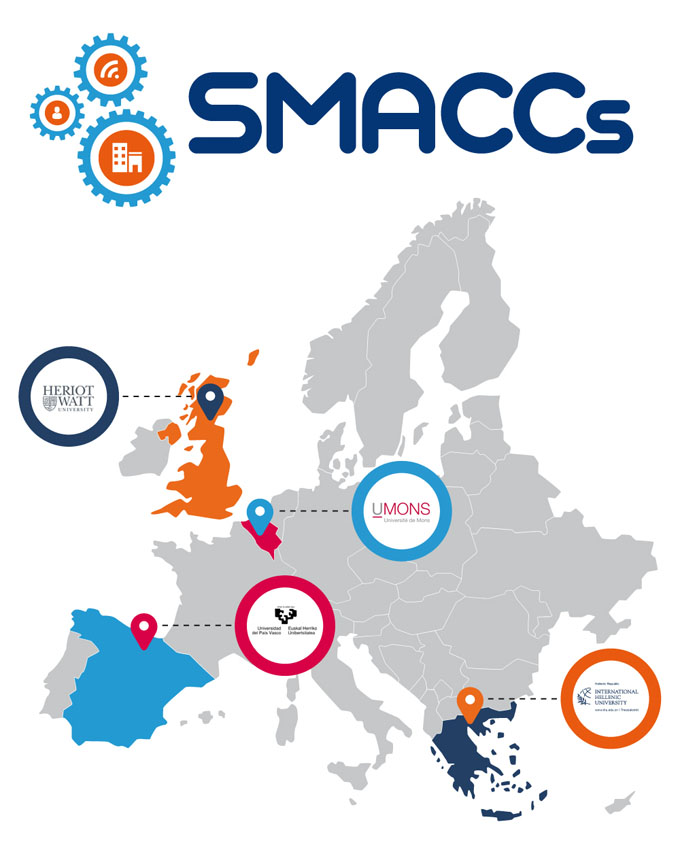 Official Government Gazette:
Re-establishment PDF (in Greek)
Programme announcement (English)
Programme announcement (Greek)
Contact
Postal address:
School of Science & Technology
Department of School of Science & Technology
University Center of International Programmes of Studies
14th km Thessaloniki – Nea Moudania 570 01 Thermi, Thessaloniki, Greece
Tel: +30 2310 807 529
Email: : infotech@ihu.edu.gr